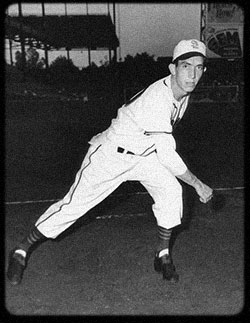 In the mid 20th century, Los Angeles was experiencing unprecedented growth. Baseball, "America's pastime," was the sport of choice and criminal activity was rampant. The police were often corrupt, the jails and prisons full of brutality. This story follows the life of Ralph "Blackie" Schwamb, a major league baseball player by day and enforcer for the mob and Mickey Cohen by night. Schwamb was tall, handsome, charismatic and a sports star who possessed a 100-Mph fastball.
One fateful night, Schwamb got involved in a brutal beating that killed a man. Arrested and charged with first-degree murder, Ralph would plead not guilty, but he was convicted and sentenced to life in prison.


Leaving his wife, young child and devoted mother behind, Schwamb was sent to San Quentin State Prison. Fortuitously, Schwamb's incarceration began at the same time that visionary Warden Clinton T. Duffy started his tenure. Warden Duffy instituted humanitarian reforms, introducing a philosophy of rehabilitation that changed the prison system from one of punishment to one of recovery.

Under Duffy's tutelage, Blackie would turn his life around. A notorious drinker, he became sober in prison and would lead the prison's baseball team, the San Quentin All- Stars, to emotional and baseball highs. Professional and company teams from all over the country wanted to play ball inside San Quentin against Blackie and the "All-Stars."
Warden Clinton T. Duffy's reforms of the penal system helped transform Schwamb and many men after him. A fierce opponent of corporal punishment and the death penalty, Warden Duffy would say, "Like a broken leg is rehabilitated, I will rehabilitate broken men."
Many of the changes that Duffy instituted at San Quentin are still in place today.

Los Angeles Examiner reporter Bob Hunter, who chronicled Schwamb's baseball career, helped him get released from prison and brokered a deal for reinstatement into professional baseball. Ralph "Blackie" Schwamb would walk out of prison after 10 years and sign to pitch for the Hawaii Islanders. Though he would enjoy his return to professional baseball and show flashes of brilliance, his skills had faded with age. Schwamb's time in prison with Duffy's reforms helped him find peace and joy in taking care of his family, as they, and others, had done for him.